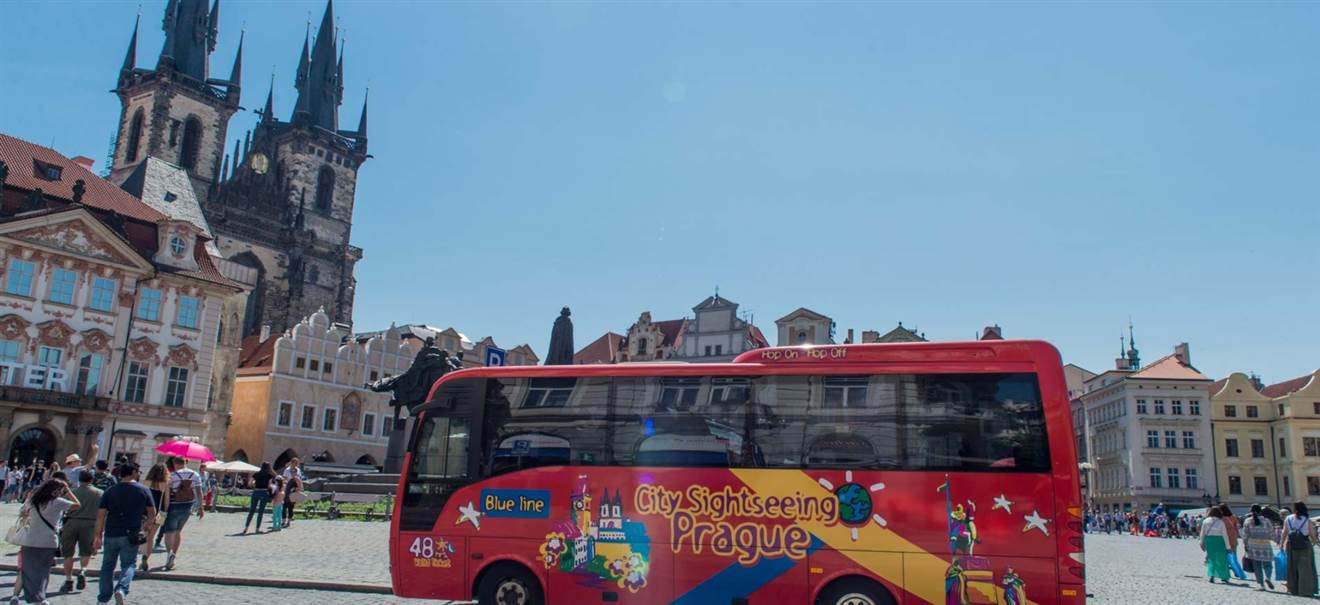 Hop on Hop off Bus Tour, River Cruise, and Prague Castle Tour
To product
This great combo deal includes a 48 hour bus voucher as well as a magnificent one hour boat cruise & the essential Castle tour.
What Does This Package Offer?
48h ticket for the Hop on Hop off Bus
Boat tour
Prague Castle tour
Bus 48 Hours hop on hop off
The beautiful city of Prague is home to a multitude of historical sights. Guided bus tours are available for those who wish to go sightseeing in Prague. During the tours, travellers are able to hop on and off the bus to walk around and soak in the rich history of the area.
The voucher is valid on all buses and can be used throughout your selected period of time. The red line, with the option of open top, takes you to those hard to reach places in the city by foot such as The Castle, Strahov Stadium and Strahov monastery. On the red line you can choose to hop off at any of these points, where we have designated City sightseeing Bus stops and timetables so you can plan your return easily or head on to the next point of interest.
The Blue line is a route that really penetrates the heart of the city and whisks you through the Old Town and historical centre. We have inner city buses which will allow you to hear stories of the more central iconic landmarks such as The Rudolfinum, The Jewish quarters and St Nikolas Church. Our buses are air conditioned for your comfort and you can also choose to hop off at any of the stops to see a point of interest or change to our red line. We have recently updated our audio stories on the bus so feel free to sample our latest edition.
One Hour Boat Cruise
An absolute must with Guaranteed 365° panoramic views of Prague Castle, Lesser Town, Old Town and the Jewish Quarter and of course the gorgeous Gothic Charles Bridge and its dark high rising towers. Cruises are available throughout the whole day. Early morning sunlight, midday sun, golden sunsets, or enjoy an evening cruise and marvel at the spectacular twilight of the city.
Duration: 
60 min
Languages available:
English, Czech, German, Spanish, Italian, Russian, French
Starting Point: 
Dock/ Pier/ Platform : 5. Beside Czech Bridge and close
to Stop 2 of the Blue Line
Times:  
Summer Season (April- November)
From 10:00 to 18:00 Every 30min
From 18:00 to 21:00 Every hour
June until October also 22:00
Winter Season (November to April)
From 11:00 to 19:00 Every Hour

Prague Castle Walking Tour
Prague Castle holds the record of the World's Biggest Medieval castle but along side it it deserves many praises for its beauty. A complex of buildings, gardens, churches, palaces, libraries and breathtaking views. Let our most experienced guides walk you through the castle grounds, enter the Cathedral and take you camera with you for some beautiful sites.
A castle that took 900 years of construction to reach the beauty we see today. The castle provided fuel for Kings and Queens ambitions to leave behind something greater than their predecessor and as a result of that royal inner competition you may visit one of Euope's masterpieces.
The best of all architecture through the ages, from Romanesque, Gothic, Baroque come alive from the tasteful surroundings. We offer a 90 minute guided stroll through pure beauty, picked up and brought back to the comfort of our buses or if you can not get enough of it and want to explore more feel free to stay longer and indulge in it's classical beauty and ponder the tales of royal families, saints and warriors.

Tour times: 
10:15 /12:15 /14:15
 Stop 4. Prague Castle on the Red Line